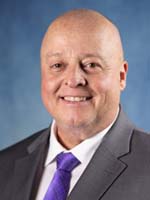 Director, Office of Disaster Management for the City of Boulder & Boulder County
Education: Bachelors in Fire Service Administration, Bachelors Organizational Development, Masters Management Sciences & Organizational Leadership. Certified State Emergency Manager, FEMA certified Master Exercise Program Planner and FEMA certified Instructor specializing in Incident Command and Emergency Operation Centers
Experience: Director of Disaster Management for the City of Boulder and Boulder County since 2009. Before accepting the position in disaster management, a lengthy twenty-seven-year career in the fire service was completed retiring at the level of Fire Chief. Notable during this time was eleven years of service with the City of Boulder Fire Department as the Division Chief of Training, a member of the Boulder County Hazardous Materials Team and a paramedic with EMS agencies serving Boulder County. Other professional experiences include Colorado Emergency Management Association Vice President 2011-13, CEMA President from 2014 to 2018, national conference speaking engagements and participation in emergency / disaster management initiatives at the state and federal level.
Disaster experience includes managing response and recovery to floods, tornados, wildfires, cyber-attacks, and the most notable are 2010 Fourmile wildland fire, 2013 Colorado flooding, 2015 Tornado, 2016 Cold Springs Wildfire, COVID 19 Pandemic, 2020 Calwood Wildfire, 2021 Boulder mass shooting, 2021 Marshall fire and 2022 NCAR fire.
Personnel: Colorado resident since 1971, a Boulder County resident since 1994, and is married, has 4 daughters, 1 granddaughter and 2 boxers.
Disaster Management Coordinator
If you've ever met Shannon, you know she embodies the term, "Nebraska Nice"! Growing up in Elkhorn, Nebraska, Shannon spent her childhood playing sports, swimming in the river and spending time with family and friends.
Shannon received her B.S. in Emergency Medical Services Education from Creighton University and worked in the health care field for five years before returning to school to receive her M.P.S. from Penn State.
Shannon began her emergency management career working County level emergency management in Nebraska for two years before moving to an EM job at the University of Nebraska for four years. However, the mountains were calling her, and Shannon left the Cornhuskers to move to Colorado, where she worked as an emergency management coordinator for three years at the City of Longmont before joining us here in May, 2022.
We are fortunate to have Shannon here at the Boulder Office of Disaster Management, where her breadth and depth of knowledge and experience are truly an asset to our community.
When Shannon isn't working, you can find her hanging with her friends and her nephews, watching the Cornhuskers and hiking with her dog, Wibby. Fun facts about Shannon: She's never caught a fish, drank a full cup of coffee and has had the honor of presiding over two weddings of close friends and family members.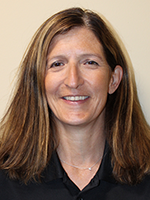 Disaster Management Coordinator
Kim grew up in Cape Cod, MA and attended UMass Amherst, where she graduated with two bachelor's degrees in Political Science and Journalism. After college, she spent one year living in Boston working and then decided to go to Colorado "just for the summer".
Kim moved to Colorado in 1992, and after realizing this wasn't a summer "thing", settled in Breckenridge, where she stayed until 2011. During her time in Breckenridge, she worked for Red, White & Blue Fire District for 17 years, serving in every rank making her way to battalion chief. During that time, she managed the wildland mitigation and education programs and served as the District's public information officer. It was also in Breckenridge where she met her husband.
In 2011, Kim and her family decided to move to Boulder, where she started working at Boulder Fire-Rescue as their public educator. She taught fire and life safety education to a wide range of ages, from kindergarten through college-aged students, to older adults. She made a concentrated effort to work with underserved populations, installing smoke and CO detectors in their homes, and teaching them how to keep themselves safe. She initiated a concentrated effort to provide wildfire education and outreach to City residents along the wildland urban interface to reduce their vulnerability to wildfire.
She is very excited to be working at Boulder Office of Disaster Management, where she sees her previous skills and experience tying in with her current responsibilities. She is team-focused and is looking forward to continuing to serve her community.
When I'm not working, you will find her mountain biking, hiking, camping (and dreaming of warm sandy beaches) or doing just about anything outdoors with her kids, sometimes her husband (when he's not working) and two Rottweilers.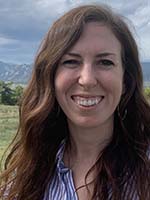 Disaster Management Coordinator
Monika arrived in Boulder County from California (by way of Indiana and Texas for a few years in between), and has been in the Disaster Management Coordinator role since August of 2022. Prior to stepping into this role Monika was an Assistant Director in Residence Life at the University of Colorado Boulder where she honed in on emergency management skills by providing crisis response for residential students, managing residential buildings, and planning and implementing the training program for all student staff within the Department of Residence Life. Throughout her time in higher education Monika had a passion for risk management and preparedness education, and was thrilled to make the goal of shifting into an emergency management role a reality by joining the Boulder ODM team.
Monika is excited to serve the entirety of the Boulder County community, and oversees Boulder Office of Disaster Management's preparedness planning and community preparedness education efforts. One of her driving motivators in this work is to help take what may be someone's worst day and make it a bit better; through helping peers and community members raise their confidence through preparedness competencies she hopes to do just that, and help support the development of a community that is well-prepared and resilient.
Monika holds a Masters of Science in Educational Administration from Texas A&M University, and Bachelors of Arts in Communications and Minor in Native American Studies from Sonoma State University.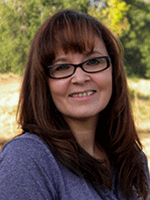 Law Enforcement Lead Technician
Francesca moved to Boulder, Colorado in 1981 and started working for Boulder County as an intern in 1995. During her career with the County, she held a variety of positions with both the Administrative Services Department and the Commissioners' Office.
In 2010, Francesca took a position in the Commissioners' Office to assist residents following the Four Mile Fire which opened an opportunity for her to join the emergency management team. Francesca's knowledge of Boulder County and her passion for providing excellent customer service to the residents and her fellow colleagues is a great asset to the community.